Reception Tips
In March 2013, KBCS moved its antenna to a new location on Cougar Mountain (near Issaquah.) At 1400 feet above sea level, our signal coverage area has increased over 40%, reaching more than 2.5 million listeners across the Puget Sound. KBCS can now be heard as far east as Fall City, as far south as Tacoma, west to Poulsbo and the Kitsap Peninsula, and north up to Everett.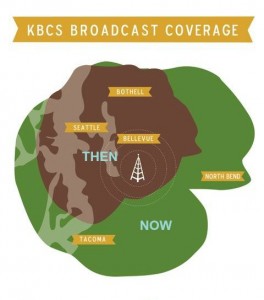 In certain areas, however, reception may have changed since the new location changes the path from our antenna to your receiver. This will be most noticeable if your receiver is located on the northwest side below a ridge or prominent terrain (on the northwest side of lower Queen Anne, Phinney Ridge, or West Seattle, for instance.) A detailed map of our new coverage area.
Cars driving in these areas or surrounded by large office towers may notice static (known as "multi-path interference.") The only solution to this problem (other than waiting for traffic to move) is to make sure your antenna is fully extended, and if your radio allows, switch to mono (most modern car stereos do this automatically.)
For home listeners in the above-mentioned areas there are several options. With table or portable radios, simply moving the position of the radio or antenna orientation may fix the problem. For home stereos or radios that have a hookup for an external antenna there are several types of external antennas. There are basically 2 groups of antennas: those mounted indoors and those mounted outdoors.
The most simple and least expensive type of indoor antenna is the dipole antenna, such as Radio Shack model 42-2385. This type of antenna is a simple wire antenna that can be tacked to the wall in either a horizontal or vertical orientation. When mounted horizontally the broad side of the antenna should be directed towards the KBCS transmitter on Cougar Mountain. Move the antenna around till the signal comes in clear.  Old TV "rabbit ears" antenna also can work well as a simple dipole antenna.
An outdoor antenna will most likely provide the biggest improvement. One relatively inexpensive model is the Winegard HD6000.
Any outdoor TV antenna is usually also capable of receiving FM radio. To connect a TV antenna to your radio, you may need adapter.
A good online resource on FM reception can be found at amfmreception.com